Lost World, The (Jurassic Park) - Isla Nublar and Isla Sorna
At the very beginning of the movie when the camera is looking at the Island it says at the bottom:
ISLA SORNA
87 miles south-west of Isla Nublar
But when Kelly is sneaking into the van after the argument with Malcom and is looking at the map you can see that Isla Sorna is south-east of Isla Nublar, not south-west.
Visual Proof!
See the examples below and
post your pictures
too.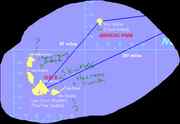 I drew on it but its still good, The 5 Deaths, the same name as my neo guild. I still havent found the meaning of metanceros.
Rated 4.9
/10 (177 ratings)
Your opinion?
Special Requirements:
The Lost World (Jurassic Park)
Contributed By:
Will
on 11-26-1999 and
Reviewed By:
Webmaster
---