Star Wars Episode 6: Return of the Jedi - Two Hans Are Better Than One!
Fast Forward to the Scene where everyone is running out of the Shield Bunker. As Han runs out you'll see a reflection glare off the plexy-glass wall build to protect the camera crew from the explosion. The reflection is almost a perfect Han just slightly lighter.
Visual Proof!
See the examples below and
post your pictures
too.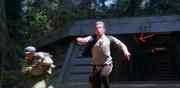 You can see that he has a reflection of his left arm
Rated 7.5
/10 (26 ratings)
Your opinion?
Special Requirements:
VCR
---