Terminator 2: Judgement Day - No T1000
When John is getting chased by the T-1000 who is in the eighteen wheeler. When it crashes it will show a scene where the truck is getting ready to blow-up and no one is in the truck.
Visual Proof!
See the examples below and
post your pictures
too.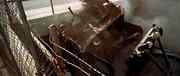 There is something there, though its quite definatly a dummy! c/o The Simonator
Rated 5.7
/10 (26 ratings)
Your opinion?
Special Requirements:
The Movie and eyes
Contributed By:
King_Jester00
on 02-01-2001 and
Reviewed By:
Webmaster
---