Full House - Stephanie's Ears
In the early episodes of Full House, Stephanie's ears are pierced. They usually have studs in them and are probably not clip ons. But in a later episode, Steph gets her ears pierced against her father's consent and then they become infected. He said that she could get her ears pierced when she was in 8th grade. What, did he just change his mind all of the sudden??
Visual Proof!
See the examples below and
post your pictures
too.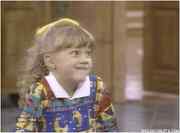 Steph's ears are peirced in the old episodes
Rated 5.5
/10 (213 ratings)
Your opinion?
Special Requirements:
The show
Contributed By:
Banana Rama
on 01-24-2001 and
Reviewed By:
Webmaster
---