Terminator 2: Judgement Day - Walk Into a Gunfight...
Ok - in the scene where John, Sarah, and The Terminator are in the Cyberdyne building. They have just come down in the lift into the lobby where the SWAT team are waiting and firing gas cylinders. Arnie says his "I'll Be Back" and walks out of the lift. The SWAT team issue various instructions, then say "Ok - drop him!".
Now - look carefully. The second they start to fire, look at the SWAT member who is furthest to the left and standing up. If you look right by his shoulder as soon as they start firing, what looks like a crew member walks into the scene, with his hands in his pockets !
I was really surprised when I noticed this, and looking at the amount of other slipups people have found, I am REAL surprised this one was missed. Still, another one to add to a pretty huge list :-)
Visual Proof!
See the examples below and
post your pictures
too.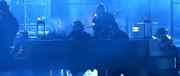 You have to look very closely! c/o The Simonator
Rated 7.4
/10 (169 ratings)
Your opinion?
Special Requirements:
Might need a 'Widescreen' edition, like the DVD.
Contributed By:
Chicane-UK
on 01-24-2001 and
Reviewed By:
Webmaster
---