Digimon - Wrong Digi Egg
OK, see the second episode of the second season. When Cody and Yollie pick up their digi eggs, when they are in the temple, Cody's digi egg of knowledge switches to Yollie's digi egg of love. But after that scene, Yollie still has her digi egg.
Visual Proof!
See the examples below and
post your pictures
too.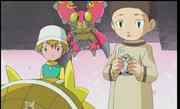 The wrong egg
Rated 4.7
/10 (47 ratings)
Your opinion?
Special Requirements:
Second episode of the second season and sharp eyes
Contributed By:
Digipower10
on 02-01-2001 and
Reviewed By:
Webmaster
---