Dumb And Dumber - Air Bag?
Watch in the scene where Lloyd is driving alongside Mary as she walks through the airport.
He stretches out his hand dramatically to her, and starts to sing, "Good-bye my LOV-"
and he rear-ends a car in front of him. Ha.
His Limo jerks to a stop, and the air-bag inflates in his face. It's very funny. As he tries to push the air-bag out of his face you can see that it is not even attached to the steering wheel. It is just a large balloon that LOOKS like an air-bag. Nice Try. At least they saved money by not actually having to deflate a limosine's air-bag.
Visual Proof!
See the examples below and
post your pictures
too.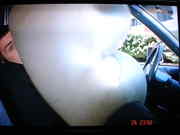 The Airbag is not connected .. obvious, but still good spot
Rated 4.1
/10 (132 ratings)
Your opinion?
Special Requirements:
an observant eye
Contributed By:
Joe
on 11-14-1999 and
Reviewed By:
Webmaster
---