Remember the Titans - School Starts on a Sunday
After the Titans have completed training camp, it cuts to the first day of school at T. C. Williams (I think that's what the school is called). At the bottom of the screen there's a caption that says "September 4, 1971: First day of school". That day was a Sunday (I know because it was the day my parents were married).
Visual Proof!
See the examples below and
post your pictures
too.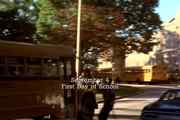 September 4
Rated 4.4
/10 (454 ratings)
Your opinion?
Special Requirements:
the movie
Contributed By:
Joe Schmoe
on 12-09-2000 and
Reviewed By:
Webmaster
---