Wizard of Oz, The - The Wizard's Balloon
In the scene when the wizard is going to take Dorothy back to Kansas, look at his balloon. It says "State Fair: Omaha". Before, the wizard said that his balloon went over the rainbow while he was flying it at the Kansas State Fair. Omaha is in Nebraska, not Kansas.
Visual Proof!
See the examples below and
post your pictures
too.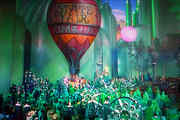 Picture of Oz's balloon as its ready to depart the Emrald City
Rated 6.0
/10 (93 ratings)
Your opinion?
Special Requirements:
the movie
Contributed By:
Egg Angel6
on 12-02-2000 and
Reviewed By:
Webmaster
---