Rocko's Modern Life - G.I. Jimbo has Come Back
In the episode where Rocko has suddenly figured out he owes a lot of money to the pizza place...he has a yard sale to raise the money.
Long story short, he is saved when a spastic art lover takes Heffer's melted G.I. Jimbo doll to heart. The art lover buys it for almost as much money as Rocko needs (minus a few cents).
Well.....when the episode is complete..and all is well...Rocko and Heffer are shown in a side-angle shot walking into Rocko's house. In the background on the table you will still see the melted G.I. Jimbo doll sitting there as if it was never sold!
Visual Proof!
See the examples below and
post your pictures
too.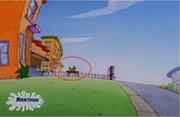 at the end of the episode, we see the GI Jimbo Doll on the table.. the andy warhol spoof forgot it!
Rated 6.9
/10 (111 ratings)
Your opinion?
Special Requirements:
Tools needed....quick eye....desire to watch Nickelodeon!!
Contributed By:
TheGuru
on 11-13-2000 and
Reviewed By:
Webmaster
---