Independence Day - Hardly a Top Secret Area
At one point Jeff Goldblum is drunk and mad and kicking things around. He kicks over a rubbish bin with the words 'art dept.' clearly visible on the bottom of it.
Visual Proof!
See the examples below and
post your pictures
too.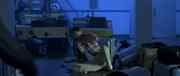 Courtesy of The Simonator
Rated 4.5
/10 (186 ratings)
Your opinion?
Contributed By:
stinger
on 10-26-1999 and
Reviewed By:
Webmaster
---