Arlington Road - Ambidextrous
In the scene at the batting cages, Tim Robbins' character picks up a bat as he starts talking to Jeff Bridges' character. He fakes a slo-mo swing of the bat, and brings it to rest on his right shoulder. Just then, the camera angle changes to a front view of Tim Robbins, and suddenly the bat has moved to the left shoulder.
Visual Proof!
See the examples below and
post your pictures
too.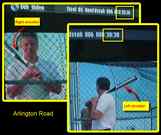 bat moves from left to right shoulder
Rated 4.2
/10 (20 ratings)
Your opinion?
Special Requirements:
None
Contributed By:
texastbolton
on 10-11-2000 and
Reviewed By:
Webmaster
---