Christmas Carol, A (1951) - Cameraman
Near the end of the film, just after Scrooge's transfiguration, he looks at himself in the mirror. A cameraman is clearly visible at this point -- it's pretty hard to miss.
Visual Proof!
See the examples below and
post your pictures
too.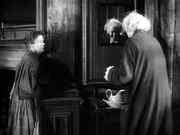 look closly next to scrooge in mirror!
Rated 7.2
/10 (37 ratings)
Your opinion?
Special Requirements:
copy of the movie
Contributed By:
Anonymous
on 10-20-1999 and
Reviewed By:
Webmaster
---