Terminator 2: Judgement Day - Different Faces
When the T-1000 is chasing Arnold and John in the flood canal, he hits a concrete wall and the truck explodes. As Arnold and John are driving away from the explosion, it is quite clear that its not Arnold Schwarzenegger and Edward Furlong on the bike. Its a stunt double for each of them. OOOPS!
Visual Proof!
See the examples below and
post your pictures
too.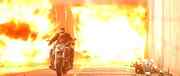 Courtesy of the Simonator
Rated 4.0
/10 (41 ratings)
Your opinion?
Special Requirements:
Just the "Terminator 2" movie.
Contributed By:
Michael Myers
on 10-16-1999 and
Reviewed By:
Webmaster
---