Star Wars Episode 4: A New Hope - Too Tall for a Storm Trooper!
When C3po is in the control room ( i _think_ its him anyway... its the small red control room with the sliding doors anyways), he is ambushed by a bunch of storm troopers(?) in white costumes... watch closely as they enter; one of them whacks his head on the top of the doorway! ouch!
Visual Proof!
See the examples below and
post your pictures
too.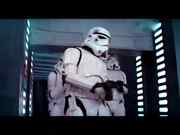 Ow that hurt!!!!
Rated 7.6
/10 (932 ratings)
Your opinion?
Special Requirements:
Just the movie!
Contributed By:
*Sari-Star*
on 08-13-1999 and
Reviewed By:
Webmaster
---