Terminator 2: Judgement Day - Broken Payphone
When the terminator (Arnold) and John go to the payphone to call John's adoptive parents to warn them, Arnold busts the payphone open to get John a quarter...but wait a sec...look at the bottom of the payphone before Arnold breaks it....it's already busted!
Visual Proof!
See the examples below and
post your pictures
too.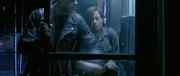 You didn't think Arnie could actually punch through solid metal did you? c/o The Simonator
Rated 5.6
/10 (31 ratings)
Your opinion?
Special Requirements:
Copy of T2 to check it out
Contributed By:
House
on 10-14-1999 and
Reviewed By:
Webmaster
---