Friends - Set Appearence
In the episode "When Monica and Richard are just friends", when Monica goes into her room (after Rachel says her day could still pick up), if you look out the door when she goes in you can clearly see the set outside. It is all wood and cardboard.
Visual Proof!
See the examples below and
post your pictures
too.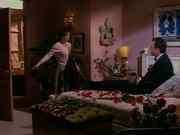 Look at the door
Rated 7.3
/10 (546 ratings)
Your opinion?
Special Requirements:
eyes...thats it!
Contributed By:
Jeffscott
on 08-07-2000 and
Reviewed By:
Webmaster
---