Star Wars Episode 6: Return of the Jedi - Leia Taking Her Helmet Off
When Leia takes her helmet off while next to the Ewok. We see it in her hand and then the next shot she is taking it off again.
Visual Proof!
See the examples below and
post your pictures
too.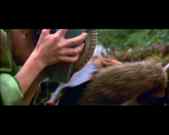 This image shows the slipup doesn't occur. This is from the widescreen version which shows the helmet is in her hands but also still on her head. Leia bends forwards to remove it, the Ewok is scared, she sits up (with the helmet stil on her head) and
Rated 2.9
/10 (21 ratings)
Your opinion?
Special Requirements:
video
Contributed By:
warren
on 08-18-2000 and
Reviewed By:
Webmaster
---