Terminator 2: Judgement Day - Trashed Tow Truck
When the tow truck goes off the over-pass after John, look at the front wheels as it hits the ground. They buckle forwards, indicating that the tie-rod is broken, rendering the truck undrivable. Also, if you look real close in the same scene, the windshield pops out, only to re-appear, and be manually pushed out later!
Visual Proof!
See the examples below and
post your pictures
too.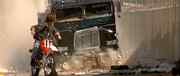 You can clearly see the windscreen coming out here! c/o the Simonator
Rated 6.5
/10 (38 ratings)
Your opinion?
Special Requirements:
The Movie
Contributed By:
SLAYER
on 10-10-1999 and
Reviewed By:
Webmaster
---