Fifth Element, The - Broken Glass
After the "perfect being"(Leeloo) has been recronstructed, notice the glass chamber just before she punches her fist through it. It is already broken. It helps to play in slow-motion.
Visual Proof!
See the examples below and
post your pictures
too.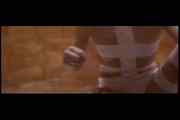 a view of the glass just before being broken.
Rated 6.3
/10 (55 ratings)
Your opinion?
Contributed By:
DAS
on 10-10-1999 and
Reviewed By:
Webmaster
---