Star Wars Episode 6: Return of the Jedi - Flashing Leia!
When Leia is choking Jabba the Hutt with a chain, she jumps off the platform and both her boobs fall out. You see this in slow motion as she stands up. You got to be quick!(I found this in the special edition)
Visual Proof!
See the examples below and
post your pictures
too.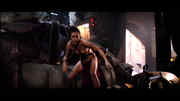 Leia's Boobs fall out After Killing Jabba
Rated 7.6
/10 (350 ratings)
Your opinion?
Special Requirements:
Slow Motion
Contributed By:
Anonymous
on 07-25-2000 and
Reviewed By:
Webmaster
---