Terminator 2: Judgement Day - Tme Displacement
In the first "Terminator" movie, we learn that only living tissue can use the time displacement equipment to travel back in time. In T2, the T1000 is made entirely of metal--how the heck did he make it through?
Visual Proof!
See the examples below and
post your pictures
too.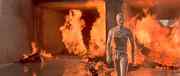 He certainly looks metallic here! c/o The Simonator
Rated 6.1
/10 (78 ratings)
Your opinion?
Special Requirements:
none
Contributed By:
alistairyeti
on 10-07-1999 and
Reviewed By:
Webmaster
---