Never Been Kissed - Wrong Pi
When Josie joins the "Denominators" they show some of the activities she takes place in. One of them is selling Pie at some kind of shool party. There is a Poster on the Pie-stand that shows a line:
Pi=3.14578699869......
In reality
Pi=3.141592653589.....
Guess the film crew didn´t have a real Denominator on board....
Visual Proof!
See the examples below and
post your pictures
too.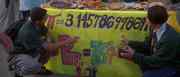 pi sign from "never been kissed"
Rated 3.5
/10 (191 ratings)
Your opinion?
Contributed By:
Anonymous
on 06-16-2000 and
Reviewed By:
Webmaster
---