Austin Powers: International Man of Mystery - Naked? Or Not?
When Alotta Fagina is getting into the hot tub with Austin Powers, she takes off her robe. You can see that there is still something covering her up on the upper side. Look closely the whole time until she gets into the hot tub.
Visual Proof!
See the examples below and
post your pictures
too.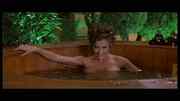 best i could find
Rated 3.9
/10 (109 ratings)
Your opinion?
Special Requirements:
MOVIE
Contributed By:
Greg Maher
on 06-09-2000 and
Reviewed By:
Webmaster
---