Clockwork Orange, A (Antony Burgess) - Anachronism?
In his Introduction, Blake Morrision states that the book is set "somewhere in Europe, circa 1972". But when Alex and his droogs steal the car from the cinema car park, we're told it's a 95 model -- and I don't think Burgess meant 1895...
Visual Proof!
See the examples below and
post your pictures
too.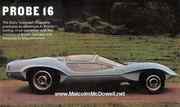 the original Probe 16 (Durango 95) More at www.probe2001.com
Rated 4.1
/10 (1084 ratings)
Your opinion?
Special Requirements:
An edition with the Blake Morrison intro (e.g. Penguin 1992)
Contributed By:
Eboreg Onxre
on 06-28-2000 and
Reviewed By:
Webmaster
---