Terminator 2: Judgement Day - Three Hands Are Better Than Two
In the part where the 2nd Terminator is chasing Arnold and Linda in the helicopter... If you watch carefully, the 2nd Terminator is shooting with both hands while a stage hand is holding and steering the wheel from the bottom.
Visual Proof!
See the examples below and
post your pictures
too.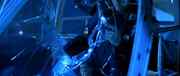 A little unclear what he's doing with the third hand ;) c/o The Simonator
Rated 2.9
/10 (144 ratings)
Your opinion?
Special Requirements:
VCR
Contributed By:
KATHLENE ALLEN
on 09-22-1999 and
Reviewed By:
Webmaster
---