M*A*S*H - Modern Props
In one episode, a patient is given a Hershey bar. He turns it over in his fingers and you can see the UPC bar code.
in another episode, a person drinks from a beverage can and you can see it is the rounded, concave aluminum bottem
Visual Proof!
See the examples below and
post your pictures
too.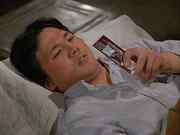 Bar code
Rated 5.1
/10 (64 ratings)
Your opinion?
Contributed By:
Jeff
on 05-01-2000 and
Reviewed By:
Webmaster
---