Falling Skies - Dangerous Motor Cycle Goof.
Falling Skies. season 2 episode 5. 27m45s. Maggie rides off on a motor cycle with the kickstand still down. Obvious and dangerous.
Visual Proof!
See the examples below and
post your pictures
too.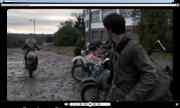 Falling Skies 0205 Maggie on motor cycle with kickstand down.
Rated 8.0
/10 (1 ratings)
Your opinion?
Special Requirements:
Nil
---