She Wore A Yellow Ribbon - Wrong Calendar
Captain Nathan Brittles (John Wayne) has a calendar with Friday the 10th circled and he crosses days off of it as he counts down to retirement. This calendar has 31 days on it.
There are references to Custer and the Battle of the Little Bighorn which recently took place on June 25th and 26th 1876. The only month with Friday the 10th and 31 days is March. This cannot be a correct calendar by any stretch.
Visual Proof!
See the examples below and
post your pictures
too.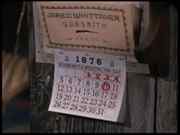 Calendar from "She Wore a Yellow Ribbon"
Rated 5.0
/10 (1 ratings)
Your opinion?
Special Requirements:
Watch Capt. Brittles Mark Calendar
---