Rocky Horror Picture Show - Nip Slip
During the last scene in Rocky Horror, when the last performance is on, the girls are in corsets and during a dance move they put their hands above their heads and out come their breasts, no need to slow down the movie, its quite easy to spot.
Visual Proof!
See the examples below and
post your pictures
too.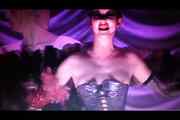 Columbia's nip slip in "Rose Tint my World"
Rated 6.2
/10 (4 ratings)
Your opinion?
---