The Sorcerer's Apprentice - It Is Supposed To Be 2002
In the scene where Ben is a child and he is at the pier with his class he writes a note to Becky. Becky leaves it for him to pick up, as Ben goes to get it the wind catches it and he begins to chase it, as he runs across the street towards the Hot Dog Stand you can see a brand new yellow 2010 Toyota Camary Taxi Cab! It is supposed to be 2002 and his age is 10.
Visual Proof!
See the examples below and
post your pictures
too.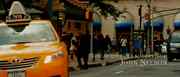 The 2010 Taxi Cab
Rated 9.2
/10 (5 ratings)
Your opinion?
---