Gilmore Girls - The Trouble With Dean
In my opinion here's where they slipped up a bit with the character Dean. Dean Forester makes his appearance in the pilot of the series, as a new student from Chicago whom Rory is instantly taken with. Chicago, which is a big city, and Dean was a new student, right? So why is it in implied in the later seasons that Dean is a country boy? Both Jess and Triston call him farm boy, and Dean does behave a little different than he did in the first season. Also, Dean remarks to Jess in one or two episodes that Stars Hollow was his town, but wait...didn't he just move there himself?
Visual Proof!
See the examples below and
post your pictures
too.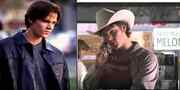 From James Dean to Johnny Appleseed
Rated 5.0
/10 (1 ratings)
Your opinion?
Special Requirements:
Gilmore Girls episodes
---