Adventures of Pete and Pete - Make Up Your Minds
In the series The Adventures of Pete and Pete, when have protagonist Big Pete Wrigley, whom has a best friend named Ellen Hickell. In the episode "The Day of the Dot" from season one, he and Ellen kiss at the end, implying they might become boyfriend/girlfriend. Then their relationship is ignored for a more few episodes, almost like their kiss never happenend. Later on in season 2's "Time Tunnel", Pete and Ellen's romance suddenly resurfaces, but again, nothing for almost a season and a half. Then in "Crisis in the Love Zone", their feelings for each other is yet again brought up. Are Pete and Ellen more than friends...or not?
Visual Proof!
See the examples below and
post your pictures
too.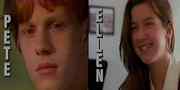 Doomed lovers Pete Wrigley & Ellen Hickell
Rated 7.0
/10 (1 ratings)
Your opinion?
Special Requirements:
The Adventures of Pete and Pete
---