Lord of the Rings: Fellowship of the Ring Extended version - Dentists in Middle Earth ?
At the party scene, Merry and Pippin stole a firework. When they get caught by Gandalf, if you look carefully, one of the Hobbit has a grey amalgam (tooth filling) on one of his upper molar.
Visual Proof!
See the examples below and
post your pictures
too.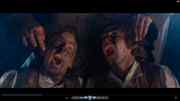 Screenshot of the filled tooth
Rated 2.0
/10 (5 ratings)
Your opinion?
Special Requirements:
Blu-ray edition of the movie required
---