Yu-Gi-Oh - Wrong Defense
When Yugi plays Summon Skull in his match with Mai, it shows the wrong defense. Summon skull comes out and when he starts to attack, it shows his attack and defense and it says 2300, not 1200 like on the card...
Visual Proof!
See the examples below and
post your pictures
too.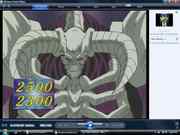 Defense = 2300. Real defense = 1200.
Rated 5.0
/10 (1 ratings)
Your opinion?
Special Requirements:
Season 1, Episode 29. (duelist kingdom season)
---