Simpsons - Milhouse Clone
This silp-up happens on the episode where Homer gets his thumb cut off by Marge, Lisa has to take her school science project (a grammar robot) to school and Bart and Milhouse find some ilegally smuggled fireworks.
It happens just after Lisa finishes fixing her robot and is running for the school bus. Look at the part where the bus drives away without Lisa, and Martin is sitting at the back of the bus saying something like 'Now you'll never win the science contest!'. Look behind Martin when he is saying this and you will see Milhouse sitting behind Martin, facing side ways so you can see his face so you know it is in. The only problem is....Milhouse can't be on that bus, because a few seconds before this happens it showed Bart and Milhouse going down to a cave and finding the Fireworks! So how can he be in two places at once?
Visual Proof!
See the examples below and
post your pictures
too.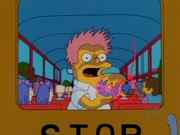 A big mistake
Rated 7.0
/10 (4 ratings)
Your opinion?
---