Fear and Loathing in Las Vegas - Half on Stage, Half
In Circus Circus, after you see the badger and Johnny Depp poking the trapeze artist in the head, start paying attention as he approaches the older man with the top hat at the podium. If you look to the left side of the screen you will see people sitting on fold-up chairs, with lighting fixtures. If you then look at the floor you will notice where off set ends, and on-set begins. As the little person we all know now as Mini-Me walks towards Depp, you still see the difference between on and off set again.
Visual Proof!
See the examples below and
post your pictures
too.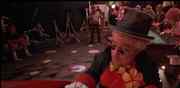 This proves my Slip-Up
Rated 8.4
/10 (5 ratings)
Your opinion?
Special Requirements:
No tools are needed
---