Back To The Future 3 - Camera Man in 1885??
In the scene where Marty gets chased by mad dog, there is a camera man to the left of the screen. You can see his clothing and the high tech equipment he is operating!
Visual Proof!
See the examples below and
post your pictures
too.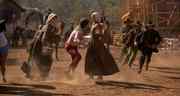 A steadicam operator is seen running along beside Marty to the left of the screen.
Rated 5.2
/10 (4 ratings)
Your opinion?
---