Angel - Reflected Vampire
First episode of Season two "Judgement", Angel Cordelia Wesley and Gym trainer are walking through the gym, the shot turns to the mirrors on the wall where naturally we do not see angel. WELL..
To my knowledge, this was not originally shot for widescreen but is presented in widescreen for the DVD set, so..
>SLIP UP> When they walk through the gym we dont see angel, David Boreanaz is waiting next to the camera to then join the shot to give the effect of him not being there. But in the widescreen presentation you can see David Boreanaz standing on the right edge of the screen. (On my square tv, I am given black bars on top and bottom, and I can still see shoulder and half of his face. On my huge wide flatscreen, I can see his whole body)
Visual Proof!
See the examples below and
post your pictures
too.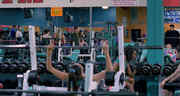 See David Boreanaz on the far right, waiting to enter the scene.
Rated 6.0
/10 (1 ratings)
Your opinion?
Special Requirements:
DVD Player, Season 2 DVD First Disc
---