Sabrina the Teenage Witch - Mixed Up License Number!!!!
In this episode, Both Sabrina and Valerie want to buy a car. So they both put 50/50 into buying Valerie's Grandmothers car. In different scenes of the School, where multiple times they take turns handing each other the keys until the scene where Valerie hand Sabrina not only the keys but also the License plate to their car which reads 824-935. In the next scene, Sabrina shows Valerie parking ticket which reads 530-V8C which is different from the License plate number. But even more of a mistake, When Sabrina goes to the other realm to by a car and the car is delivered in Sabrina room, there is a part in a scene where the camera shows the front of the other realm car and the License plate reads 530-V8C which is the same number as what the parking tickets say for Valerie's Grandmother's car. Now that's what I call a mistake.
Visual Proof!
See the examples below and
post your pictures
too.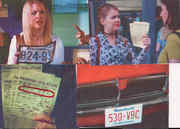 First picture of the Licence plate of Sabrina's and Valerie's car. Second and third picture of the parking violation; Number circled in red doesn't match the License plate Sabrina has in first picture. Fourth picture of the other realm car the the Li
Rated 8.5
/10 (2 ratings)
Your opinion?
Special Requirements:
dvd, season 2, disc four episode name; My Nightmare, The Car.
---