Naruto - Strange Frame Left in
In episode 78 of Naruto there is a scene where Sasuke goes into a flashback of how weak Naruto used to be. During the transition a strange frame from post-production was left in.
If you wanna check it out go to this link
http://i173.photobucket.com/albums/w73/PSPal/IDK.jpg
Visual Proof!
See the examples below and
post your pictures
too.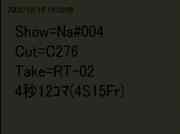 This is the post-production frame
Rated 7.0
/10 (2 ratings)
Your opinion?
Special Requirements:
Naruto uncut box set 6
---