The Simpsons Movie - Bio Dome
When the Dome goes over Springfield, the church and Moe's tavern are beside each other, but in the tv episodes/game, they aren't !
Visual Proof!
See the examples below and
post your pictures
too.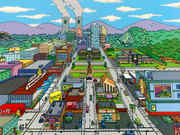 see moe's is down the block and across the street !
Rated 5.3
/10 (3 ratings)
Your opinion?
---