Doctor Who (2007) - Time Difference Gone Mad
If you go 25 mins and 15 seconds into the episode just after the child is captured,there are several targets with scenery behind but if you look into the background you can see a moving white square that is a 21st century bus/lorry.But the episode is set in 1913!
Visual Proof!
See the examples below and
post your pictures
too.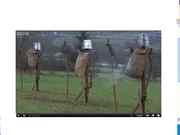 The Thing IN the Circle Is the Bus/Lorry
Rated 9.0
/10 (3 ratings)
Your opinion?
Special Requirements:
The Episode Human Nature
---