Generation Kill - Wrong Gun
If you look at the second Humvee which is Sgt.Colbert's Humvee, you will notice it has a 50.cal machine gun on top when it should have a Mk 19 grenade launch.
Visual Proof!
See the examples below and
post your pictures
too.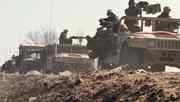 look at the second humvee
Rated 1.2
/10 (4 ratings)
Your opinion?
Special Requirements:
generation kill episode 4 at about 42:23
---