Back To The Future 2 - Where Are the Kids?
In back to the future Part 2,when Marty walks in the 80's cafe, he gets a Pepsi. There are kids playing a video game in the background. He sees the old Biff. When Marty says "Biff", Biff gets up. After Biff stands up, the camera shows Marty again and the kids in the back are gone.
Visual Proof!
See the examples below and
post your pictures
too.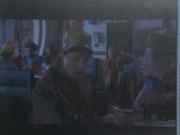 The kids
Rated 5.0
/10 (1 ratings)
Your opinion?
---