Twilight - Microphone
In the movie Twilight, when Edward is bringing Bella upstairs, right before he says, "I told them not to do this", look at the glass holding up the railing. It's a microphone.
Visual Proof!
See the examples below and
post your pictures
too.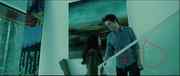 I think this is what they mean (areas are circled in red)
Rated 3.5
/10 (4 ratings)
Your opinion?
---