Malcolm In The Middle - Red Dress Episode Slip-Up
1) Watch the episode
2) Wait for the part where all the kids are sitting around the table wrapping a present...in just a second, the mom will come around the corner holding her burnt dress she found in the toilet
3) There she is! Look to the left of her and you can see a crew member handing her the red dress from a bucket full of water! He's right there...that's pretty bad!
Visual Proof!
See the examples below and
post your pictures
too.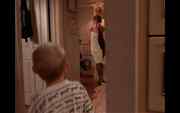 Bucket with water to make the dress soaking wet.
Rated 7.4
/10 (5045 ratings)
Your opinion?
Special Requirements:
You'll need to watch the Red Dress episode (the one where the mom's dress is burned and she tries to figure out which one of the kids did it)
Contributed By:
Nutmeg
on 04-22-2000 and
Reviewed By:
Webmaster
---