Life on Mars - Crew Member Visible with Drink in Hand.
Life on Mars, Episode 3, Tim: 24:43, When Sam enters house where he used to live as a kid, as he enters the bedroom you can see the hand and part of a person standing behind the door with a drink in hand.
Visual Proof!
See the examples below and
post your pictures
too.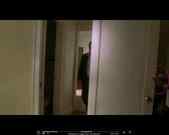 Crew member visible
Rated 8.6
/10 (5 ratings)
Your opinion?
---