Doctor Who (2007) - Not a Cordless Phone
About 0:20 of "Doctor Who," Season 4 Episode 10, Donna is brought a purple phone. When it shows the close up of her speaking into the phone, there is an empty wire jack on the bottom.
Visual Proof!
See the examples below and
post your pictures
too.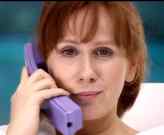 phone jack
Rated 4.3
/10 (7 ratings)
Your opinion?
---