Buffy: The Vampire Slayer - Camera Man in Reflection.
SEASON 6, DISC 2, EPISODE 5. (first on the disc, fifth of the season) "Life Serial"
In this episode the "trio" are messing with Buffy. The slip up happens when it is Andrew's turn to summon the demons on Buffy when she is working at Zander's construction site.
The slip up: When Warren and Andrew use the really big binoculars, you can see the camera man standing there, in the reflection of the lens.
Visual Proof!
See the examples below and
post your pictures
too.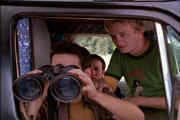 Look on the binoculars.
Rated 9.0
/10 (2 ratings)
Your opinion?
Special Requirements:
Season 6 DVD, DVD player.
---